If you are looking for the best website hosting services in 2021, then you are in the right place. Here i am going to give a detailed review on hosting services
1) BlueHost
The price options are Good. Basic is $2.95/month and Choice Plus is $5.45/month to get started out
This is really good considering all the features they give.
For website loading speed, until you fill your WordPress site with too many plugins, it is good.
Customer Support is extremely good. They have both an active telephone line and a live chat you can rely on at all times.
You also get auto-scaling to handle unexpected traffic spikes, 24/7 monitoring, and premium SSL certificates to keep your website safe.
So, you get everything you need to start, manage, and scale your online business.
Hostinger gives one of the most affordable hosting solutions on the market.
Their prices literally start from $1.39/month. Which is too good for a newbie.
You'll have to sign a four-year contract to get the lowest deal possible, but that total contract is going to be way less than a single year with other hosts.
You don't get a ton of storage, but your site will be able to handle around 10,000 visits each month with no problem.
With marginally more expensive plans, you get a whole lot more in terms of hosting resources and capabilities.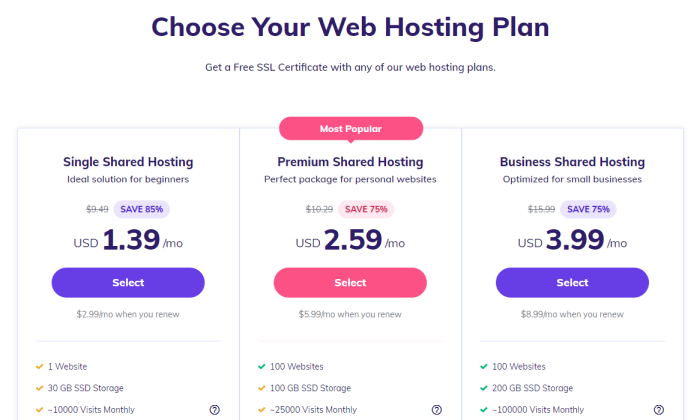 With Business Shared Hosting, which is only $3.99/month, you can get unlimited bandwidth, 200 GB storage, and the ability to create up to 100 websites.
That's less than four bucks a month for great loading speed and daily website backups.
That means even if you mess up badly, you always have access to previous versions of your website.
Another reason I really like Hostinger is that 24/7/365 support is baked into the price of every plan.
For companies with a small or non-existent IT staff, expert customer service is a huge perk.
It is the best option if you're searching specifically for a shared hosting service that's affordable and reliable.
Hostinger provides a 99.9% uptime guarantee and a 30-day money-back policy. That's hard to beat for a monthly hosting price that's less than a cup of coffee.
Plus, you get one-click auto-scaling to handle unexpected traffic spikes, 24/7 monitoring and customer support, and premium SSL certificates to keep your site and visitors safe.
3) HostGator:
HostGator is one of the best options when it comes to blogging.
They are perfect if you're looking for the most affordable way to begin posting online.
Pricing options start from the jaw-dropping $2.75/month.
Once again, you can't expect the best features for such a low price.
But it's a great alternative for startups that want to get their website up and running.
And just like Bluehost, they have a responsive telephone line with a live chat you can access at any moment.
You can also find a giant database with common questions beginners have, together with professional opinions and solutions to those problems.
Everything is explained and demonstrated step-by-step and if you're still not sure that you can do it on your own.
Just shoot them a message and start chatting with their professional customer support.
4) WP Engine:
With WP Engine you get a blazing fast and ultra-reliable WordPress site without any work on your part.
The company invented the idea of managed WordPress hosting—where the provider takes over all the backend technical work—and WP Engine is still the leader in the field.
WP Engine hosts WordPress exclusively. Their servers are optimized for just this type of site. And when you reach out to customer service, you will be talking to an expert who handles WordPress issues 24/7.
Of course, the top-notch uptime, speed, and customer service are not as cheap as some of the others on the list.
But if you don't have to hire a WordPress developer to maintain your site's security and performance (or spend time figuring that out yourself), going with WP Engine can actually be cost-effective.
And, as a reader of my site, you can use the neilpatel20 coupon to get 20% off your first payment, which makes WP Engine an even better deal:
You just have to contact them and work out the best plan for your specific situation.
Of course, their experts are going to help you choose the correct option without pushing you to stuff you wouldn't need.
Every plan comes with best-in-class tools to develop your WordPress site. No other host offers such a variety and depth of features, such as one-click staging areas where you can build and test your site before it goes live.
Test that new social media WordPress plugin in the staging area to make sure it doesn't cause problems for other plugins or themes. This is way better than discovering an issue after it breaks the site and kills traffic.
It's a great hosting service if you're looking to take your WordPress site to the next level without the IT headaches and responsibilities. Your teams can focus on creating great sites and let WP Engine ensure everything is running correctly.
Don't expect cheap services, but expect great quality and support on the way to your successful business.
5) SiteGround:
If you want to sell your products online, then you're probably in need of a good WooCommerce Hosting Service.
In that case, you should take a look at SiteGround.
They have separated their pricing options depending on your scalability.
Most Hosting Services cut you here and there when it comes to cheaper options.
This is not the case here!
SiteGround really wants to overdeliver, even if you choose their cheapest options.
Their Customer Service has a whopping 90% resolution at first contact.
That means that 90% of the time you'll chat or speak with an expert in their team and resolve your issue in no time.
So if you're looking for the best WooCommerce solution, SiteGround is the hosting service for you.
6) GreenGeeks
Nothing is more frustrating than having something go wrong and there's no one available to ask for help.
And, in the high-stakes world of web hosting, not having a support centre to contact is unacceptable. Just think of the lost revenue and frustrated visitors (who may never come back) if your site is down at a crucial time.
With GreenGeeks, you get a robust knowledge base, 24/7/365 live chat support, email support that gets back to you within 15-20 minutes and lives phone support available Monday through Sunday from 9 a.m. to midnight (Eastern Standard Time).
That's not only a lot of options to get help when you need it—that's the support that's always available at the moment. Which is better than a lot of other web hosts out there.
"Sure, the support's great," I hear you asking, "but what about the, you know, actual hosting?"
Well, not only does GreenGeeks offer the full array of hosting options—from basic and WordPress-specialized options to VPS and reseller hosting—but they provide an eco-friendly option at incredible prices.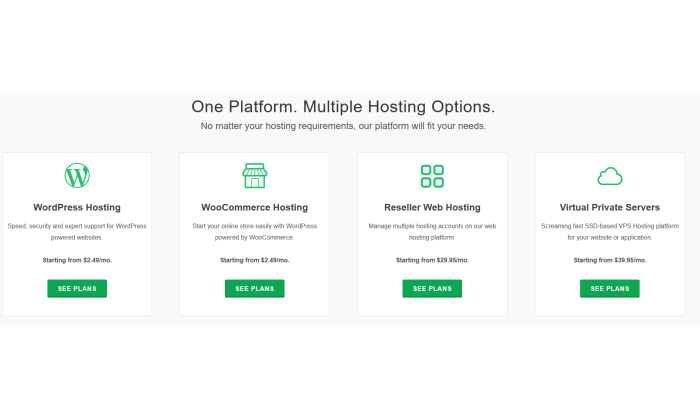 Seriously, most of its hosting plans start at $2.49/month (including WordPress and WooCommerce hosting).
If you want a bit more power, GreenGeeks' VPS hosting plans start a little pricier than others ($39.95/month), but don't require an annual commitment to secure. So, no price hikes after a year and no surprises.
I mentioned, too, that GreenGeeks is an eco-conscious hosting solution. You probably guessed that anyway by the name. But they're very committed to offsetting some of the negative environmental impact that maintaining server farms creates. For over a decade, GreenGeeks has been buying renewable energy credits at 300% of what they consume.
So, if that matches you company's environmental philosophy, you've just found another reason to go with GreenGeeks.
Check out their hosting options and sign up with GreenGeeks today.
What I Looked at to Find the Best Web Hosting Services
When it comes to the best web hosting services you have to look at various important factors.
If you jump in too quick you might get into something that's not suitable for your business.
But don't let any of that doubt creep into your mind.
Instead, sit back and relax while we present to you all the factors that you need to be aware of before making a decision.
You can weigh the different web hosting services and decide which is the best solution for your specific business.
Hosting factor #1 – Uptime reliability:
If your hosting is down, no one would be able to access your website.
And obviously you want your website running 24/7.
Luckily, in 2021 this is not a huge problem since most web hosting providers offer a '99.99% network uptime guarantee'.
That means that your website would go down very rarely.
And even when it does, you can contact your hosting service and you will get compensation.
Most of the time that would be in the form of hosting credits.
One of the best practices to making sure everything runs smoothly even when you're taking a break is to sign up for a tracking tool like an uptime robot.
If your hosting service crosses the line, this tool will notify you that you need to find a new webserver to host.
Hosting factor #2 – Speed is key:
Website loading speed is extremely crucial when it comes to SEO optimization in 2021.
That's simply because if your pages load slowly, people will bounce out of your website and your ranking will fall down the drain.
You need a trustworthy host provider that can guarantee optimal website loading speed.
The thing is that you can't know the exact loading speed before you try the hosting service yourself.
But you can always optimize your website loading speed using free tools and effective loading speed practices.
And the best news is that even if your budget is tight, you can still get a good loading speed.
But don't expect anything spectacular for say $4/month.
Generally, the higher the price, the faster your pages will load.
Anyways, we will include our personal experience regarding loading speed for each of the options down below.
Hosting factor #3 – Customer service:
Good Customer Service will come in handy when something goes wrong.
Especially if you're new to websites, you're bound to make mistakes that may lead to your website being down for a while.
And the more time it's out, the more it will cost you.
So a good support team will help you get the issues solved in no time.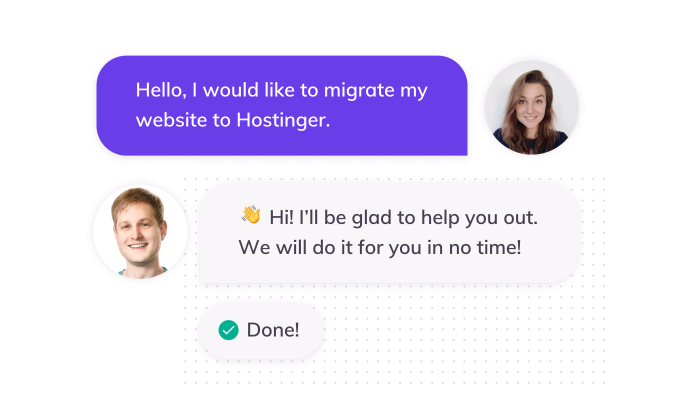 Even if you made a major mistake that's impossible to come back from…
Most support teams will have a full backup of your website so you can get back to a working version.
You always want your support team to have a live chat or a telephone you can call.
Email just doesn't make the cut if you want to resolve the issue fast, which you should want, given that your website is down.
We made sure to include only website hosting services with strong communication skills.